Are you looking for a 3D printer that provides value for money? Read our review of the Silhouette Alta. Find out what you can print with it, and how it performs compared to other printers.
Nothing is more exciting than being able to think of something and be able to make it in real-time. 3D printers allow you to make different kinds of shapes out of plastic. You can experiment with multiple projects with this crafter's tool.
The Silhouette Alta is a must-have printer with fantastic capabilities. Here's a comprehensive review of the Silhouette Alta.
What is the Silhouette Alta?
Silhouette Alta is a printer that comes with a plastic filament to produce 3D designs. You don't need to be an experienced printer to use the 3D printer. The best part is that it comes assembled, which means you can make your first prints after unboxing.
The user-friendly 3D printer does all the modeling and techy slicing. Most 3D printers need you to locate a file, turn it into a 3D model, and slice it to allow the printer to produce your design layer by layer.
Silhouette has thousands of design in its store. You can choose to use free or purchase some plans. The printing software comes with a cookie-cutter import setting, something that reduces the time you have spent creating a cutter file. However, most users found its bulky design disappointing.
Features of the Silhouette Alta
Some of the features you can expect in the Silhouette Alta include:
Ability to Print Custom Designs
You can print custom designs with the Silhouette Alta. Also, it allows you to build 3D models using the Silhouette Snap Kits. Most users love its ability to print Silhouette 3D files and third party files in .obj and .stl formats.
Own Software
You'll notice that most 3D printers expect you to get two extra software programs. However, Silhouette Alta has its slicing and designing, which makes your process straightforward and cheaper.
Pre-Assembled and Pre-Calibrated
Some 3D printers come as parts, which means you will need to assemble and calibrate before you can use. Silhouette Alta comes preassembled, which means you won't take hours to join it as it comes ready to print.
Moreover, the bed of the printer that holds the layers is flat and in harmony with the software. With this printer, you get creations true to its digital model form.
Ability to Use any 1.75mm PLA Filament
While you can use Silhouette's PLA filaments, the 3D printer allows you to use any PLA filament.
Adjustable Print Settings
The Silhouette Alta offers an impressive amount of autonomy, which means you can adjust the print settings based on your projects. You get a maximum print size of 120mm by 116mm. What's more, you can adjust the speed of printing.
Silhouette Alta Specifications
Print Volume: 124 x 124x130mm
Dimensions: 9.8 x 9 x18.75
Printer Type: Delta
Unit Weight: 9.7 lbs.
Filament Type: 1.75 mm non-proprietary PLA filament
Interface: USB 2.0 speed
How it compares to other 3D Printers
Silhouette Alta has some stiff competition. Here's how it performs against other 3D printers.
FlashForge Finder 3D Printer
The FlashForge Finder is a reasonably priced 3D printer that is easy to use like the Silhouette Alta. Both Alta and FlashForge printers only use PLA filament, which can be limiting for those who would want to use ABS.
FlashForge has Wi-Fi connectivity, something that you won't find on Alta. However, these two 3D printers allow connection through a USB 2.0 cable. The slicing software loads when your power on the printer.
The printer has an easy to use interface, which makes the software simple to use. On the downside, FlashForge has a modest build volume and has a problematic setup process.
Name: FlashForge Finder 3D Printer
Ease of Use: 4.7/5
Assembly Time: 4.6/5
Build Quality: 4.7/5
XYZ Printing 3D Printer
The XYZ Printing 3D Printer handles laser etching and 3D printing. Unlike the Silhouette Alta, this 3D printer allows you to use PLA and ABS filament, together with a 3D scanner.
Although it's more expensive than the Alta, the Da Vinci printer combines WI-Fi connectivity with wireless 3D printing to fine-tune your printing projects. It works right out of the box, something that makes it simple to use like the Alta.
Both Alta and XYZ Printing 3D printer come preloaded with software. You can create 3D printed projects after assembling the printer. Its compact and portable nature allows you to use and store it without any difficulty.
Name; XYZ Printing Da Vinci Pro
Ease of Use: 4.7/5
Assembly Time: 4.7/5
Build Quality: 4.6/5
Pros and Cons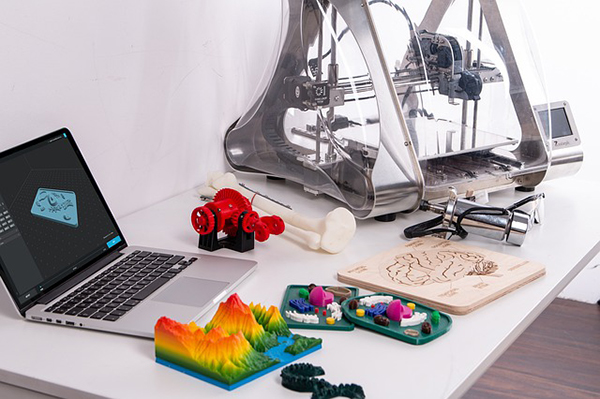 The Silhouette Alta is a quality 3D printer that is not only affordable but also gets you accurate prints that are exact to your specifications. Furthermore, it's ideal for those with little to no 3D printing experience as it is simple to use.
The best part is that it comes assembled and calibrated, which means you can make your prints right out of the box. Another benefit of Alta is creative and efficient software. The software combines two different functions into one program that incorporates designing and slicing.
Experienced crafters can take advantage of how this 3D printer integrates another slicing program rather than using Silhouette. Access the design store for more images and shapes. You're not restricted to specific file types that means you can print from .obj and .stl files.
You can enjoy value for money with this lightweight 3D printer. The adjustable print settings also make your work simpler.
Unfortunately, the Silhouette Alta can only use PLA filaments. Also, it's small, which means it can't handle anything complex. It lacks intricate details.
Pros
Comes with creative software
It's simple to use
Affordable and quality printer
Cons
Small and basic
Only uses PLA filaments
Final Thoughts
The Silhouette Alta is simple to use, affordable, and ideal for beginners. It's a printer that gives you value for money and gives you access to adjustable print settings. However, if you're looking to print something complex or large, you may want to try another 3D printer. Also, it only uses PLA filaments, which can be limiting.