Crafting is a fun and often lucrative past-time. While you might be getting by with a basic die cutter or even a manual die cutting machine, it just might be time for you to consider an upgrade. Prices and quality of personal die cutters vary greatly. Take a look at our review of the KNK Zing Orbit and see how it compares to the competition.
A die cutter is a machine used to cut materials like fabric, paper, or metal. They can create cutouts that can be used for things like quilting, decorating, t-shirts, scrapbooking, or stationery. A die cutter can be manual or digital.
Manual die cutters work something like cookie cutters. Each shape has a mold which is inserted into the machine. Then the pattern is pressed into the material to cut out the form.
Digital die cutters function more like a printer. Designs are sent for processing from a cartridge or computer. The cartridge has preloaded models and plugs directly into the cutter. The drawings from a computer can be created or downloaded using special software. There are digital die cutters that can pierce, draw, engrave, and emboss as they cut.
KNK Zing Orbit Specifications
The KNK Zing Orbit is a digital cutting machine. It has 1000 grams of cutting force. More force means you can cut heavier materials like Mylar, chipboard, or vinyl.
The Zing Orbit uses RTS/CTS flow control signals, which means that you no longer need to rely on software to send chunks of information at regular intervals. The Zing Orbit lets the computer know when it is ready for more data. The communication between the processor and the cutter is faster and more consistent. Extremely complex jobs can be completed without butter overruns.
The Zing Orbit is available in 15-inch and 24-inch models. The pinch wheels can be moved to cut materials from 3 inches to 15 inches (or 24 inches depending on the model) wide. A single pinch feed lever lowers and raises all of the wheels.
The Automatic Registration Tracking system (ART) provides a more accurate and faster automatic cut and print application. Once the blade is positioned over the first registration mark, the cutter will scan it then move to and move to the other three registration marks in less than 30 seconds.
You can connect your computer using a USB or via WiFi. It can be used as a stand-alone device or as part of your network for convenience.
Easily removable and attachable flatbed tables are included with the 24-inch model and an option for the 15-inch model. The optional Orbit Accessory lets you draw directly on objects that are spherical like Christmas ornaments or Easter eggs.
How KNK Zing Orbit Compares
We compared the KNK Zing Orbit to its competitors, the Silhouette Cameo, Cricut Explore Air 2 and Silver Bullet. We looked at the overall ease of use, the cutting specifications, the materials supported, and the warranty to help you determine which die cutter best meets your personal crafting needs.
KNK Zing Orbit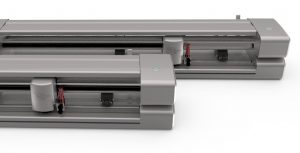 The KNK Zing Orbit is a die cutter best suited for crafting at-home. It has an attractive set of multi-colored LED lights. It can process cuts at speeds up to 30 inches per second although intricate designs take longer.
The advanced optic eye instead of laser light allows for more straightforward calibration and exact automated print and cut application. A set of screws in the tool holder lets you insert pens, markers, or handheld embossing tools, a feature not common on die cutters. The KNK Orbit is also extremely quiet.
On the other hand, the KNK Zing Orbit is not very portable. It weighs 12.16 pounds and does not have a handle for carrying. Neither the 15-inch or 24-inch model has two cutting head tools so you must change it out when using the score and cut application.
The KNK Orbit is not a machine for beginners as there is a bit of a learning curve. It requires the software Sure Cuts A Lot however it is not included with the device and must be purchased separately. It is also priced far above a machine that would be used for casual crafting.
Silhouette Cameo
The Silhouette Cameo has only 210 grams of cutting force and can only cut up to 12 inches wide, which is less than the KNK Orbit. Cameo has a dual-carriage so that you can use two tools at once, unlike the KNK Orbit.
Cameo uses Bluetooth technology and is PixScan compatible. Cameo is less expensive and works well for cutting lighter weight projects but not as well with heavy cutting. It can not cut through material thicker than 1/16 of an inch. Overall, Cameo is easier to learn than the KNK Orbit but has fewer cutting options.
Cricut Explore Air 2
Cricut Explore Air 2 does not have as high of cutting pressure as the KNK Zing Orbit. Cutting width is limited to 11.5 inches wide while the print and cut size is limited to 6 inches wide. To use the device, you must have access to high-speed internet, although that makes it simpler to design on the go using your iPad, iPhone, or laptop.
The Cricut Explore Air 2 comes in a variety of colors and has an optional tote for carrying. The fine-point blade is useful for cutting a variety of materials, and the double tool holder allows the pen and knife to be used simultaneously.
Silver Bullet
The Silver Bullet comes in 13-inch, 15-inch, 18-inch, and 24-inch models. All models have a max speed of 800 mm/sec. The 18-inch and 24-inch models have a cutting pressure of 1,250 grams, which is more than the KNK Orbit. The smaller two versions have a cutting pressure of 950 grams.
The Silver Bullet costs about twice as much as the comparable KNK Zing Orbit and is slightly heavier at 13.5 pounds. The Silver Bullet is accurate down to .025 mm and has four wheels to keep materials in place. It comes with the Sure Cuts A Lot software and also works well with other software. The Silver Bullet is not for beginners as the machine takes some time to learn how to use.
While the KNK Orbit is not the top of the line die cutter, it is a great intermediate machine for the price. It has 1000 grams of cutting force and is available in 15-inch and 24-inch models. A few drawbacks include that fact that the software must be purchased separately and the machine has only one cutting head tool.
Featured Image Source: Amazon.com