Our team had fun looking over & reviewing over 24 vinyl cutters readily-available online. We carefully weighed the features, performance, dimensions, and versatility of every product and narrowed it down to the 5 absolute best vinyl cutters.
1. Silhouette Cameo Electronic Cutting Machine Vinyl Starter Kit Bundle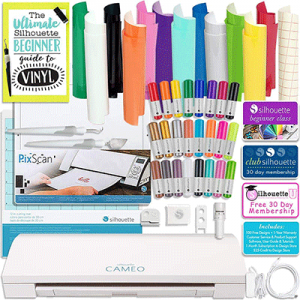 | Weight | Dimensions | Warranty |
| --- | --- | --- |
| 12.45 lbs/ 5.64 kg | 11 x 11 x 24 inches/ 27.9 x 27.9 x 60.9 cm | n/a |
Whenever considering a vinyl handling machine, the Silhouette Cameo needs no introduction. The brand produces simple electronic machines that possess top-notch quality for accurate cutting. Easily the best vinyl cutter for small businesses, it is also perfect for beginners. Also, when you compare it to some of the top machines, the Silhouette Cameo costs much less.
Pros
The print and cut feature has a nice all-around way to it
Can cut multiple materials at once
You can replace the blades
Cons
Runs quite loudly in comparison to other machines
The whole work depends on the software
Best recommended for:
The Silhouette Cameo is the best vinyl cutter for t shirts for anyone who has a smaller budget. It delivers excellent value, and you can import different designs according to your need.
2. Cricut Explore Air Wireless Cutting Machine
| Weight | Dimensions | Warranty |
| --- | --- | --- |
| 16.89 lbs/ 7.66 kg | 25.4 x 10 x 9.2 inches/ 64.5 x 25.4 x 23.3 cm | 90-day Limited Warranty |
Do you want a compact vinyl cutter? If so, the Cricut Explore Air takes the best of each past generation and rolls it over into a single product that can easily qualify as the best vinyl cutter for t shirts of the year. The machine tackles a variety of materials from leather to vinyl. Because of its features, you can take your business operations into other domains to achieve even greater profits.
One key difference worth highlighting about Cricut comes down to its totally wireless connection. You don't have to connect this machine to your PC through cables. It transmits everything, from images to designs, via Bluetooth. Then, it works just like a regular cutter, so you can use it to draw and cut.
Pros
Precise – cuts straight to the point
Operates silently in comparison to its competitors
Can cut through a variety of materials
Cons
The software is confusing
Best recommended for:
Do you want the best vinyl cutter for t shirts? For the budget-conscious customer, this vinyl cutter delivers a great performance, and you can work from whatever location you like as long as it remains within the Bluetooth range.
3. USCutter Vinyl Cutter MH 34in BUNDLE
| Weight | Dimensions | Warranty | Speed |
| --- | --- | --- | --- |
| 51 lbs/ 23.13 kg | 42.6 x 16.3 x 13.2 inches/ 108.2 x 41.4 x 33.5 cm | n/a | 39 in/s |
When you have tons of space and little demand for portability, the USCutter comes out as the best vinyl cutter for t shirts. Known on a global level for the best in DIY tools, the MH 34in never disappoints when it comes to accurate cuts and quality. The machine is customizable, as it comes with some rollers that let you adjust the dimensions and speed for all kinds of materials. You can change the blades anytime or install different knives, magnetic blanks, or rolls and use the cutter for different activities.
Pros
The interface is intuitive to use
You can work with a flexible number of materials
Precise cuts for all materials
Cons
This product isn't portable
Best recommended for:
If you don't have the workspace, this product won't be your first choice. However, those without a need to pay attention to workspace could see clear benefits in its top-notch work for pinstriping and vinyl lettering. It's a decent vinyl cutter that deserves a chance from customers.
4. Roland GS-24 Vinyl Cutter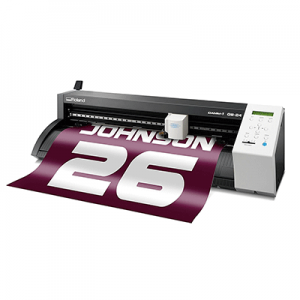 | Weight | Dimensions | Warranty | Speed |
| --- | --- | --- | --- |
| 63 lbs/ 28.5 kg | 33.9 x 12.6 x 19.2 inches/ 86.1 x 32 x 48.7 cm | n/a | 20″ per second |
Some might see the Roland GS-24 and mistakenly assume it won't rank as well as the competition. However, the Roland brand has served its customers for two decades with uncompromising quality. When you combine this with other traits like dependability and excellent cutting speed, you get an unstoppable force and the best vinyl cutting machine in terms of accuracy.
Pros
Precise blade grooves for maximum accuracy
Works with a variety of materials
Roller base keeps the feeder working
Cons
Might be difficult to set up
Best recommended for:
If you want the best vinyl cutter for t shirts but won't look at the budget, the Roland GS-24 certainly does the job.
5. Silhouette Cameo 3 Bluetooth Bundle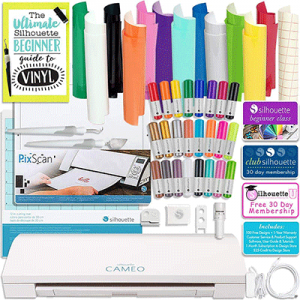 | Weight | Dimensions | Warranty | Speed |
| --- | --- | --- | --- |
| 14.2 pounds/ 6.44 kg | 23.9 x 11 x 8.9 inches/ 60.7 x 27.9 x 22.6 cm | n/a | n/a |
Interested in vinyl cutting as a business? If so, you may want to consider the Silhouette Cameo 3 Bluetooth Bundle. Using quality hardware, this machine can deliver excellent cuts. This is the better and updated version of the Cameo 2, and it features many specs the past model lacked.
Pros
It has wireless capabilities
Provides great cutting clearance
The dual carriage lets you cut and print at the same time
Cons
You might find the software updates annoying
Best recommended for:
The Cameo 3 is the improved version of the Cameo 2, and it sports some essential features. However, it's not suitable for those people that work with leather, as it cannot cut through this material.
Conclusion
This article features some of the greatest options on the market in terms of vinyl machines and helps you find the best vinyl cutter for t shirts to perfectly suit your needs. Do you have any thoughts or opinions on the products mentioned or have you tried a different machine? If so, we invite you to leave a comment below and start an active discussion.
Learn which are the best vinyl cutters for starters!