Join us in this article where we have compiled a list of the four best starter vinyl cutters for you. To make things easier, we have also rated them according to a few factors like their speed and precision, how easy they are to use, and how affordable they are.
A vinyl cutter is a machine controlled by a computer that moves the blade over vinyl and other materials to cut out images. Businesses and hobbyists generally use vinyl cutters to make signs and apparel decorations. However, these machines come in a variety of styles and with a wide range of features, so finding the perfect one for you might be difficult if you are a beginner.
1. Cricut Explore Air 2 Machine Bundle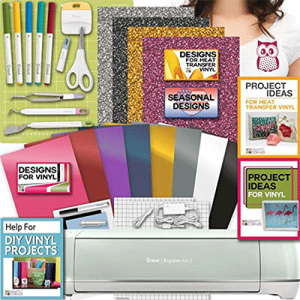 Weight
Dimensions
Warranty
Speed
n/a
11 x 11 x 24 inches/ 27.94 x 27.94 x 60.96 cm
One year
Adjustable cutting and writing speed up to 2x faster
Other specific features
Smart Set dial; Built-in Bluetooth.
Dual carriage; Storage compartments.
Cricut Explore Air 2 features a fast working mode, making it one of the fastest cutters you can find on the market. It can cut mostly any material and allows you to perform other activities as well, as it includes Cricut pens for writing. The Smart Set dial will automatically find the best settings for your activity, making it ideal for beginners and a good competitor for the best starter vinyl cutter title.
Pros
You receive a set of instructions and guides as a PDF
Relatively quiet
Versatile, works on a variety of materials
Cons
Limited size for print and cut
Best recommended for:
The speed, precision, and user-friendliness of this machine make it the best starter vinyl cutter for beginners.
2. USCutter TITAN 28 inch Vinyl Cutter with Stand, Basket and VinylMaster Cut Software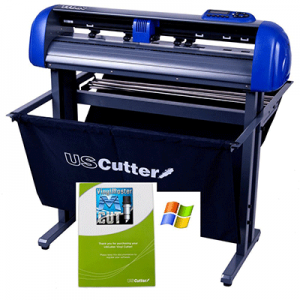 Weight
Dimensions
Warranty
Speed
59 pounds/ 26.8 kg
n/a
n/a
31.5 in/sec
Other specific features
Laser registration;
USB interface.
USCutter is a more professional machine, but it's the best starter vinyl cutter for small businesses or for people who are planning to start one. Given its exclusive features, it is a bit more expensive than other options. However, it is a more affordable alternative for businesses and professional cutters. It's super quiet, can cut through any material, and features several moving parts made of metal.
Pros
Large LCD display
Adjustable speed
Comes with multiple tools and extra items
Cons
You might find it expensive if you are a beginner
It comes with no manual or instructions
Best recommended for:
This cutter is top of the line for starter models. It is more expensive than other alternatives, but it has a larger capacity and incorporates the latest technology.
3. Cricut Maker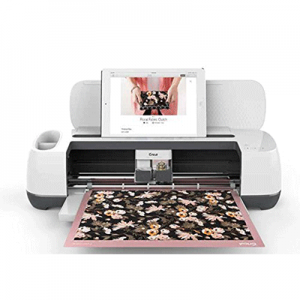 Weight
Dimensions
Warranty
Speed
n/a
22.6 x 7.1 x 6.2 inches/ 57.4 x 18.3 x 15.75 cm
n/a
Up to 2x faster cutting and writing speed
Other specific features
Expandable suite of tools;
Rotary blade; New knife blade.
This latest product from Cricut is the best starter vinyl cutter if you want versatility. It works on hundreds of materials and cuts with 4 kg of force. Its adaptive system is compatible with all Cricut tools. Therefore, the machine is perfect both for beginners and for professionals, as it offers professional level cutting at an affordable price.
Pros
Smooth operation
Thoughtful design details
Works with a special software
Cons
Small cutting space
You have to pay a monthly fee to use the Cricut work space online
Best recommended for:
This versatile, user-friendly machine is great for hobbyists who engage in a range of crafts, so it can easily qualify for the best starter vinyl cutter.
4. Brother Electronic Cutting Machine, ScanNCut2
Weight
Dimensions
Warranty
Speed
10.36 pounds/ 4.7 kg
10.1 x 22.8 x 10.6 inches/ 25.65 x 57.91 x 26.93 cm
One year limited
Variable – 5 levels
Other specific features
Built-in scanner; Bluetooth;
LED touch screen.
This is the best starter vinyl cutter if you are looking to engage in a variety of crafts. What makes it suitable for beginners is its built-in scanning system, as you can use it without a computer. Also, there are no monthly subscriptions or cartridge purchases, so it's incredibly accessible and easy to use.
Pros
Standalone machine
Plenty of instructions on how to use it
Large scanning and cutting area
Cons
Might be expensive
Uses its own image format, limited creative potential of software
Best recommended for:
With wireless design transfer and a built-in scanner, this standalone vinyl cutter is great for scanning hand-drawn designs and ideal for anyone who is new in this business.
Conclusion
Choosing the best starter vinyl cutter for your needs depends on your budget and what materials you are planning to cut. Some features you need to consider are speed and force, wireless capability, and automatic settings. We have gathered all of them in brief reviews on the best machines on the market to make your choice easier. If you have any thoughts on these products or on any other vinyl cutters you have used, feel free to share them with us.
Learn what software works with your starter vinyl cutter: