We are here to present the Cricut Cuttlebug Die Cutting and Embossing Machine and talk about its main features. In our article, we have summarized both positive and negative Cuttlebug reviews, the main pros and cons of the machine, and its most important specifications and uses. This machine is the best choice you can make if you are on a budget, as it does a wonderful job without many resources.
About the Cricut Cuttlebug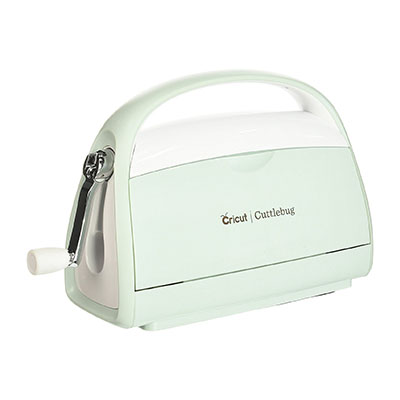 Weight
Size
Warranty
N/A
13 x 11 x 6.5 in. / 33 x 28 x 16.5 cm
1 year (if bought new from an authorized dealer)
Other Features
Voltage/Wattage: N/A
Power Source: N/A
Cricut Cuttlebug is a die cutting and embossing machine with a high overall customer rating. You can use it to cut and emboss several types of materials, including tissue paper, thin leather, acetate ribbon, cardstock, and foils. The machine comes with a 6 x 8 rubber embossing mat, a 6 x 8 A plate, and two 6 x 8 B plates. Apart from this, the pack also contains two metal dies and an A2 embossing folder.
Cricut Cuttlebug is a good option for people who have little storage space or who generally prefer items that are small and more comfortable to use. You can fold and collapse the handle, so the machine becomes compact and easier to store in almost any space. The cutting machine's portability is one of the top features enjoyed by users, as it's often praised in Cuttlebug reviews.
Another helpful characteristic often mentioned in most Cuttlebug reviews is the strong suction cups that come with it. The machine can stick to the table during use, adding a lot of safety. This way, you can be sure you won't mess up the cuts or hurt yourself. Although the Cricut Cuttlebug is designed for domestic use, the machine can deliver professional quality cuts and embossments, so it could work in a professional environment as well.
It's compatible with all Cricut dies and folders as well as most tools from different brands, so you can create a variety of crafts with it.
Pros
Professional Results: The Cricut Cuttlebug is designed to deliver professional results, and most customers who have tried the machine agree that it fulfills its promise. Its cuts are crisp and clean, while the embossments are even and deep while remaining consistent over repeated uses. This is given mostly by the strong suction cups on the bottom of the machine that keep it in place during use. Therefore, in the end, you get factory-quality professional results.
Easy to Use: Some cutting machines are known for being a bit complicated. Usually, it's quite difficult to learn how to use them. Fortunately, Cricut Cuttlebug is an exception. Most Cuttlebug reviews praise the machine for providing a pleasant cutting experience and accessible techniques. The instructions that come with it are clear and easy to follow, promoting easy learning.
Versatile: The Cricut Cuttlebug's versatility allows you to be creative and produce different cool designs. It's compatible with a lot of folders and dies, and it can deal with a various of materials.
Cons
Only for 1/8 inch materials or smaller: The Cricut Cuttlebug is designed to handle materials with heights up to 1/8 inches. If you try cutting anything taller than that, it may get stuck in the machine. Therefore, it's not so suitable for large designs.
Opinions About the Cricut Cuttlebug
The main positive feature often mentioned in Cuttlebug reviews is, of course, the simple design of the machine and how easy it is to use. Other positive aspects include good value for the money and great versatility. Happy customers state that it's a good die cutter and embosser available even for a small budget. It's also fun to use to experiment with various dies.
The machine is so simple that is becomes accessible even for children. It's lightweight, you can move it from one place to another, and the techniques it uses are not difficult. Also, the suction cup works as it should, and the directions are clear enough to let you use the machine straightaway.
In the negative Cuttlebug reviews, the most common complaint is that the machine might be a little too frail. Customers report the Cuttlebug might snap and crack down during use while not giving complete cuts or embossments. Also, the suction cup might not be universal, as some users have noticed it didn't stick well everywhere. Some shipments might also come with missing items but, overall, the number of positive Cuttlebug reviews greatly outnumbers the negative reviews.
Conclusion
All Cuttlebug reviews highlight the great benefits of the machine, as well as several of its negative aspects. We have also presented all its specifications and the main uses of the Cricut, together with some general pros and cons you should keep in mind. This machine is great for domestic use but, given its advanced precision and efficiency, it's also great for professional works. Do you think this product would be suitable for your needs? Tell us what you think in the comments below.
Cricut Cuttlebug is one of the best fabric die cutters on the market. Find some other vinyl cutting machines that are just as effective: