After consulting a series of Cricut Explore Air 2 reviews and specifications, we have built a complete overview that highlights the most important features of Mint. In the following article, we will talk about the most important product details of the cutting machine, present several of its pros and cons, and summarize all the user opinions on its performance.
Also, we will mention the most common uses of Mint and tell you what to expect from this machine. Most Cricut Explore Air 2 reviews recommend the machine as an excellent tool for intricate designs or written work. Read more about other uses and benefits of the machine.
About Cricut Explore Air 2 Mint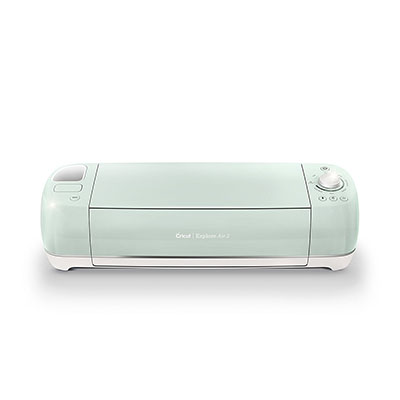 Size
Warranty
Voltage/Wattage
24 x 9.5 x 9.5 in. / 61 x 24.1 x 24.1 cm
1 year on electrical parts, 90 days on non-electronic components
N/A
Power Source
Wall plug
If you want to create customized vinyl stickers, greeting cards, apparel, or home décor, Cricut Explore Air 2 Mint is the ideal tool. The machine lets you use your very own images or, if you're not feeling creative, choose from a series of pre-made designs available on the Cricut website.
Once you purchase it, you get access to a software called Design Space. This app has been specifically created for Cricut Explore Air 2, so here is another benefit. Cricut also comes with a design app for iOS and Android that can work while offline. Therefore, you can literally design anywhere.
The double tool holder lets the machine cut and write or score in one simple step. For perfect precision, it has a Smart Set Dial which ensures cutting at the perfect pressure and depth for any material. The Cricut Explore Air 2 can use over 100 different types of materials, providing a lot of versatility. These include cardstock, vinyl, faux leather, specialty papers, poster board, adhesive foils, and more. Also, it has Bluetooth, so you can cut wirelessly.
This unit's cutting option uses a German carbide blade that is so accurate that you can cut out intricate lace designs or even spiderwebs. The writing mode offers over 350 font choices, but you can also use a customized font from your computer. If you're in a hurry, the machine also offers a speed mode that can perform two times faster.
Many Cricut Explore Air 2 reviews praise it for its scoring capabilities. The machine does score lines so you can perfectly fold greeting cards, boxes, envelopes, and other items. Last but not least, this unit is excellent for creating customized gifts, for scrapbooking, or even for a small crafting business. Whenever you need additional supplies for arts and crafts, you can find them on the Cricut website.
Pros and Cons of Cricut Explore Air 2 Mint
The Cricut Explore Air 2 reviews available on Amazon rank the product as the number one best seller in the Die-Cutting and Embossing section and the number 11 best seller in the Crafts and Sewing section.
Pros
Precise cutting: The German carbide blade enhances the precision of the machine and can deal even with the most intricate designs.
Fast: Cricut Explore Air 2 Mint is fast as it is but, in case you're in a hurry, you can activate the speed feature that enhances the cutting speed.
Easy to use: The machine features a relatively simple design with a basic algorithm. This means it's quite easy to learn how to use it and how to control all its functions.
Clear instructions and a practice file: To make sure you will properly learn how to use the Mint machine, Cricut has included some clear instructions in the pack. Also, you get to test your cutting skills with a practice file that will prepare you for the real process.
Cons
Limited use of the software: Design Space, Cricut's app, is free to use for a limited time and then you are required to pay a monthly fee.
Higher learning curve to use multiple colors: Overall, Cricut Explore Air 2 Mint is really easy to use. However, if you want to produce more complex designs and use multiple colors at the same time, you need some experience. Only after a lot of practice will you be able to master such designs.
Only Bluetooth connection: If you want to cut wirelessly, Bluetooth connectivity lets you do that. However, you cannot connect it to Wi-Fi.
Opinions about Cricut Explore Air 2 Mint
After consulting a series of Cricut Explore Air 2 reviews, we have gathered both positive and negative opinions on the machine. Overall, users are satisfied with its performance and think it does an excellent job creating the designs they want. It is easy to set up and its instructions are clear, so it requires little time to get used to its functioning mode.
All these Cricut Explore Air 2 reviews praise the added tools that come in the pack. These include a mat, blade, pen, and cardstock, as well as the practice file that is a user favorite. The Mint machine makes precise cuts even on skinny fonts and designs.
As mentioned above, users do not like the fact that you need more experience for layering or multiple color designs. Fortunately, there are plenty of YouTube tutorials to help with the issue. The monthly fee for the design app is also quite a big downside, as well as the lack of Wi-Fi connectivity. In spite of these negative elements, most Cricut Explore Air 2 reviews preserve a positive tone.
Conclusion
Cricut Explore Air 2 Mint is the perfect machine to use for intricate designs. It is precise, fast, and can cut a wide variety of materials, becoming the perfect companion for people who love arts and crafts. While it serves as a great tool for professionals, it also offers a chance to beginners to increase their crafting abilities. Do you think this machine could serve all your crafty needs? Please share your thoughts with us in the comments.
Try some other fabric die cutters from our list!